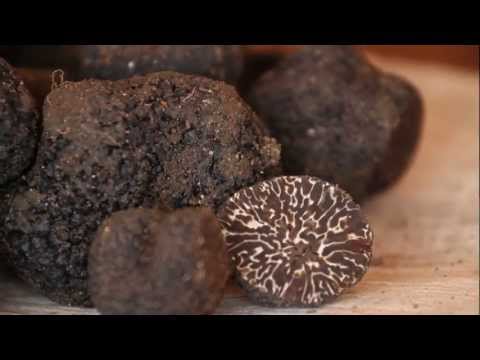 La Ferme Les Eybrachas invites you to discover the black diamond truffle. Take a walk among oak trees to find truffles, with the dogs' help, then you will enjoy a delicious tasting at the owner's establishment. (reservation required, from November to Mars).
Journée découverte de la Truffe Noire
"de la terre à l'assiette"

10h00 : Visite libre des marchés aux truffes et musées de la truffe (Richerenches le samedi matin et St-Paul-Trois-Châteaux le dimanche matin)

12h00 : Rendez-vous à la ferme pour le début de la visite avec les chiens. Vous découvrirez les truffières, le cavage, les principes de culture de la truffe, les différentes espèces. Vous vivrez une expérience inoubliable avec la possibilité de découvrir le diamant noir à sa sortie de terre, de le toucher, le sentir. . . Puis viendra le moment de le déguster lors d'un « casse-croute rabassier ».

12h45 à 15h00 : Le casse-croute rabassier est composé de plats truffés de l'entrée au dessert. Des recettes simples, afin que vous puissiez réellement découvrir tous les arômes du diamant noir. Les vins AOC Grignan les Adhémar accompagneront idéalement ce déjeuner.

Réservation indispensable, possible directement en ligne sur www.truffe-noire-drome.com
Nous proposons également un hébergement en chambres d'hôtes si certains le souhaitent.
Des visites simples sont possibles en semaine pour des groupes constitués.
745 Chemin des Eybrassas
26230
Réauville
Add to travel book
Booking
Direct, SIMIAN Virginie
04 75 98 73 82
contact@truffe-noire-drome.com
From 01/01 to 31/12, daily between 12 pm and 3 pm.
Adulte : à partir de 55 €
Enfant (10 ans) : de 15 à 40 €.

Tarif groupe à partir de 10 personnes.
Cash
Cheque
Chèques Vacances
Credit transfer