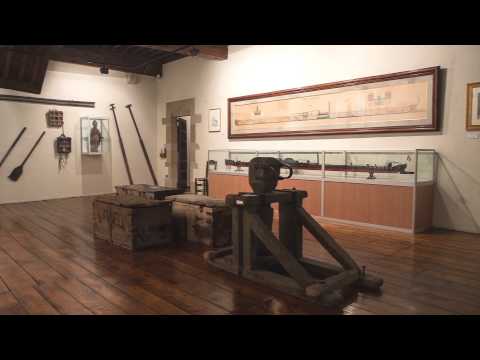 Museum
Castle of Tournon sur Rhône
Dating back to the 10th - 16th C. , the castle of Tournon houses a museum labelled "Musée de France". Discover the rich collections from the Renaissance to the present day. Rooms with furnitures and collections linked with the Rhône river and the Fine Arts.
Temporary exhibitions 2018 :
Dominant la Vallée du Rhône et ses vignobles, le Château-Musée de Tournon-sur-Rhône jouit d'une situation géographique exceptionnelle. Classé Monument Historique et labellisé "Musée de France", il est à la fois un lieu de mémoire et un lieu de vie : chaque année plusieurs expositions temporaires sont en outre proposées ainsi que de nombreuses animations (concerts, contes, ateliers enfants, chasse aux oeufs, Visite du château hanté d'Halloween, Nuit des Musées...) qui mettent en valeur son architecture et ses collections.
Manifestations nationales (Nuit des Musées, Rendez-Vous au Jardin, Journées du Patrimoine)
14, Place Auguste Faure
07300
Tournon-sur-Rhône
Add to travel book
Booking
Direct, Château-musée
04 75 08 10 30
patrimoine@ville-tournon.com
From 19/03 to 30/06/2019
Opening hours daily between 2 pm and 6 pm.
Closed exceptionally on May 1st.

From 01/07 to 31/08/2019
Opening hours daily between 10 am and 7 pm.

From 01/09 to 03/11/2019
Opening hours daily between 2 pm and 6 pm.
Full price: from 4 €
Reduced price: from 3 €
Adult: 3 to 4 €
Child (7-18 years): from 3 €
Student: from 3 €
Job seeker: from 3 €
Disabled: from 0 €
Group adults: from 3 €.

Free entry for children < 7 years, the holders of the M'ra card, disabled people.
Group rate available for > 10 people.
On presentation of the booklet " Les Bons Plans 2019 " : Pay € 1 less (€ 3 instead of € 4)
Covered picnic area
Exhibition space
Car park
Parking
Educational visits
Coach access
Themed tour
Tourist brochures
Tour free of charge
Guided tours
Not accessible in a wheelchair
Bank/credit card
Cheque
Chèques Vacances
Cash
Pass'Région
| Name | Area (m²) | Maximum capacity | U-shaped room |
| --- | --- | --- | --- |
| Salle Broet | 120 | 50 | 50 |
| Caveau du Château | 100 | 50 | - |