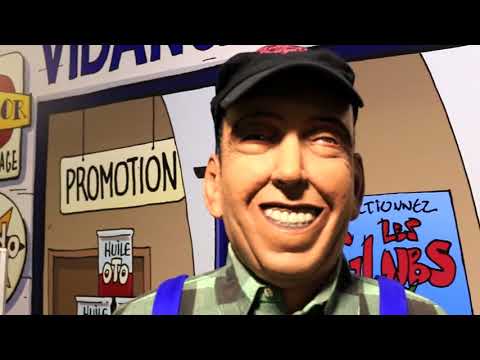 Museum
Candy and Nougat palace
11 000m ² dedicated to childhood and memories in the middle of Candies, Toys and Christmas crib figures. 2 new areas: Museum Ere N7, World of Dolls and baby dolls. Nougat factory, shop with free access, indoor Badaboum games for children aged from 1 to 12 years old, outdoor playground.
Les saveurs de l'enfance le temps d'une visite multi-musées ! Les différents espaces de découverte, ludiques et interactifs, réveilleront les souvenirs des plus petits comme des plus grands : le Palais des Bonbons site originel bien sûr mais aussi la Maison des Jouets, la Provence en Santons, l'Ère Nationale 7, le Monde des Poupées, l'école d'autrefois, etc... et Montélimar oblige, la Fabrique artisanale de nougat.
A découvrir en 2019: le Monde des Automates et la Garde Républicaine, l'Érable.
Boutique en accès libre (bonbons, nougat, souvenirs). Dégustation.
Egalement sur place : Badaboum jeux indoor, Accro Eiffel parcours acrobatique indoor (sur réservation, mini 10 pers) espace extérieur avec restaurant, pique-nique, jeux, mini-ferme et volière exotique, salle de locations pour entreprises.


.
100 route de Valence
26200
Montélimar
Add to travel book
Booking
Direct, Palais des Bonbons et du Nougat Maison des jouets
04 75 50 62 66
contact@palais-bonbons.com
From 02/01 to 31/12, daily.
Closed exceptionally on January 1st and December 25th.
Voir sur www.palais-bonbons.com
Accès boutique gratuit.
Play area
Picnic area
Covered picnic area
Bar
Toilets
Public WC
Camper van reception area
Air conditioning
Exhibition space
Car park
Defibrillator
Sustainable development
Restaurant
Entertainments room
Film room
Meeting room
Parking
Coach parking
Private parking
Waste management
Photovoltaic panel
Rain water collectors
Educational visits
Coach access
Motorhomes allowed
Room hire
Themed tour
Shop
Set down on-site for groups
Wi-fi
Tourist brochures
Tourist information
Restaurant
Fast food
Takeaway/cooked dishes
Leisure Center
Online shop
Pokestop
Ticketing in number
Accessible for wheelchairs with assistance
Accessible for self-propelled wheelchairs
Reserved space 330 cm wide < 20 m from the site
Vertical signage of parking spaces
Even flooring with no obstacles
Absence of slope > 5%
Absence of protrusions > 2 cm
Minimum aisle width of 90 cm
Doors >=77 cm wide
Absence of steps
WC + grab handle + adequate space to move
Site, building totally accessible
Possibility of drop-off in front of the site
Bank/credit card
Chèques Vacances
Cash
Credit transfer
| Name | Area (m²) | Maximum capacity |
| --- | --- | --- |
| Salle 1,2,3 | 100 | 300 |