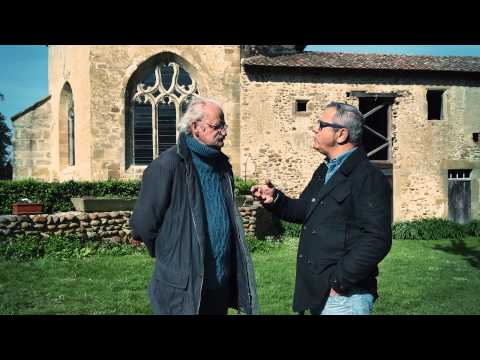 Historic site and monument
Prieuré de Charrière
Part of a convent, the church Saint Pierre de Charrière was built in the XV century on the remains of a Romanesque church dating back to the X or XII centuries.
Cet ancien couvent, propriété communale est construit sur un promontoire qui domine la Galaure d'une vingtaine de mètres. Quelques arbres centenaires, bordant la rivière, forment un écrin de verdure pour ces bâtiments médiévaux qui ont gardé rusticité, charme, sérénité… et l'ensemble des constructions érigés par les franciscains autour du cloître.
Le chœur voûté de cette chapelle gothique renferme encore des peintures murales des XV et XVIIe siècles.
Le couvent a été reconstruit à la fin du XVIe siècle après les guerres de religions et leurs destructions.
Les visites commentées de l'ensemble conventuel de Charrière permettent de découvrir l'architecture rurale franciscaine ainsi que l'histoire de ce couvent étroitement liée à la vie et à la mémoire du Pays et du village de Châteauneuf de Galaure.
Cet ensemble architectural remarquable, situé sur la rive gauche de la Galaure, fait l'objet, depuis plusieurs années de travaux pour sa sauvegarde et sa remise en état et a permis de créer un lieu d'animation ouvert au public et accessible aux visiteurs. Les travaux vont se poursuivre avec le soutien actif de l'association "Patrimoine Castelneuvois".
Le site de Charrière, couvent franciscain complet situé en pleine campagne, est un lieu unique en Auvergne Rhône Alpes, donc rare.
L'université de Lyon Lumière mène, depuis 2017 et pour 3 ans, des études sur ce site, pour connaître les périodes ainsi que les phases de construction, mais aussi la destination de chacune des pièces et l'organisation de la communauté religieuse occupant le site.
1125, Route de Charrière
26330
Châteauneuf-de-Galaure
Add to travel book
Booking
Direct, office de tourisme
From 02/01 to 31/05/2019, daily between 3 PM and 5 PM.

From 01/06 to 30/09/2019, daily between 3 PM and 5 PM.

From 01/10 to 31/12/2019, daily between 3 PM and 5 PM.
Closed exceptionally on bank holidays.
Full price: 5 €
Reduced price: 4 €
Adult: 5 €
Teenager: 4 €
Child: 0 €
Student: 4 €
Job seeker: 4 €
Disabled: 4 €
Group adults: 4 €
Group children: 0 €.

Free entry for children < 16 years.
Group rate available for > 15 people.
Toilets
Public WC
Exhibition space
Car park
Coach parking
Pets welcome
Guided individual tours
Guided group tours
Educational visits
Coach access
Tourist brochures
Guided tours
Motorhomes allowed