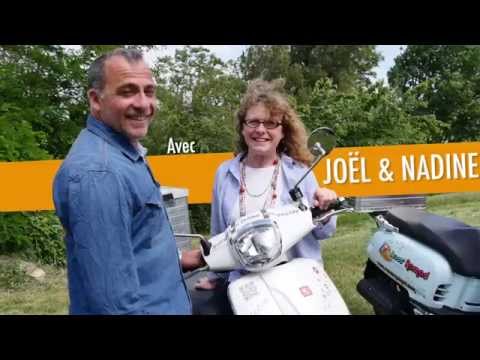 Weekdays, Weekend, Touring, En étoile, With porterage
Vagabondage en scooter pour une Aventure Robinsone vintage en Drôme provençale
2 days, 1 night
Revisitez vos vacances insolites en mode vintage.
Scoot'Nomad vous invite à vagabonder en scooter ou mobylette en version seventies entre genêts, lavandes, abricotiers, oliviers ou truffières.
Respirez et appréciez le plaisir d'une liberté retrouvée.
Détendez-vous, Scoot'Nomad s'occupe de tout. Pour votre échappée belle en deux roues, vous partez avec : un scooter, un kit camping, un pique-nique du terroir et un carnet de route (circuit commenté de bons plans).
Après 70 kms environ de baguenaudage à scooter à travers les villages perchés de la Drôme provençale, vous camperez au cœur d'une vallée perdue au bord du ruisseau.
Au village provençal typiquement Provençale de Marsanne 1435 chemin neuf
26740
Marsanne
Organised by
Scoot Nomad Sarl Jonas Add to travel book
Booking
Direct, Scoot Nomad Sarl Jonas
06 30 39 75 24
scoot-nomad@live.fr
12/04 between 9 am and 7 pm.
Le prix comprend : la location d'1 scooter 125cc + 1 remorque + 1 roadbook commenté de bonnes adresses (terroir et patrimoine) + 1 kit camping (2 pers.) + 2 casques + assurance au tiers + 1 carte de la Drôme + l'assistance technique en cas de problème.
Le prix ne comprend pas : la carburant, les déjeuners et dîners, les visites ou activités et les assurances personnelles.
Possibilité d'opter pour un confort supérieur en tente safari ou gîte champêtre (à partir de 100€/personne).
Autres options avec suppléments :
- transfert depuis et vers la gare de Montélimar.
- siège enfant homologué (3 à 8 ans).
Cheque
Chèques Vacances
Cash
Credit transfer
Accueil paysan
Other accommodation
Bivouac
Campsite
Gîte
Gîtes de France
Furnished
Holiday village
Chambre d'hôtes (bed and breakfast)
Guest house
Habitation Légère de Loisirs
Quirky accommodation
1-star
2-star hotel
3-star hotel
4-star hotel
Natural area
Gîtes de France